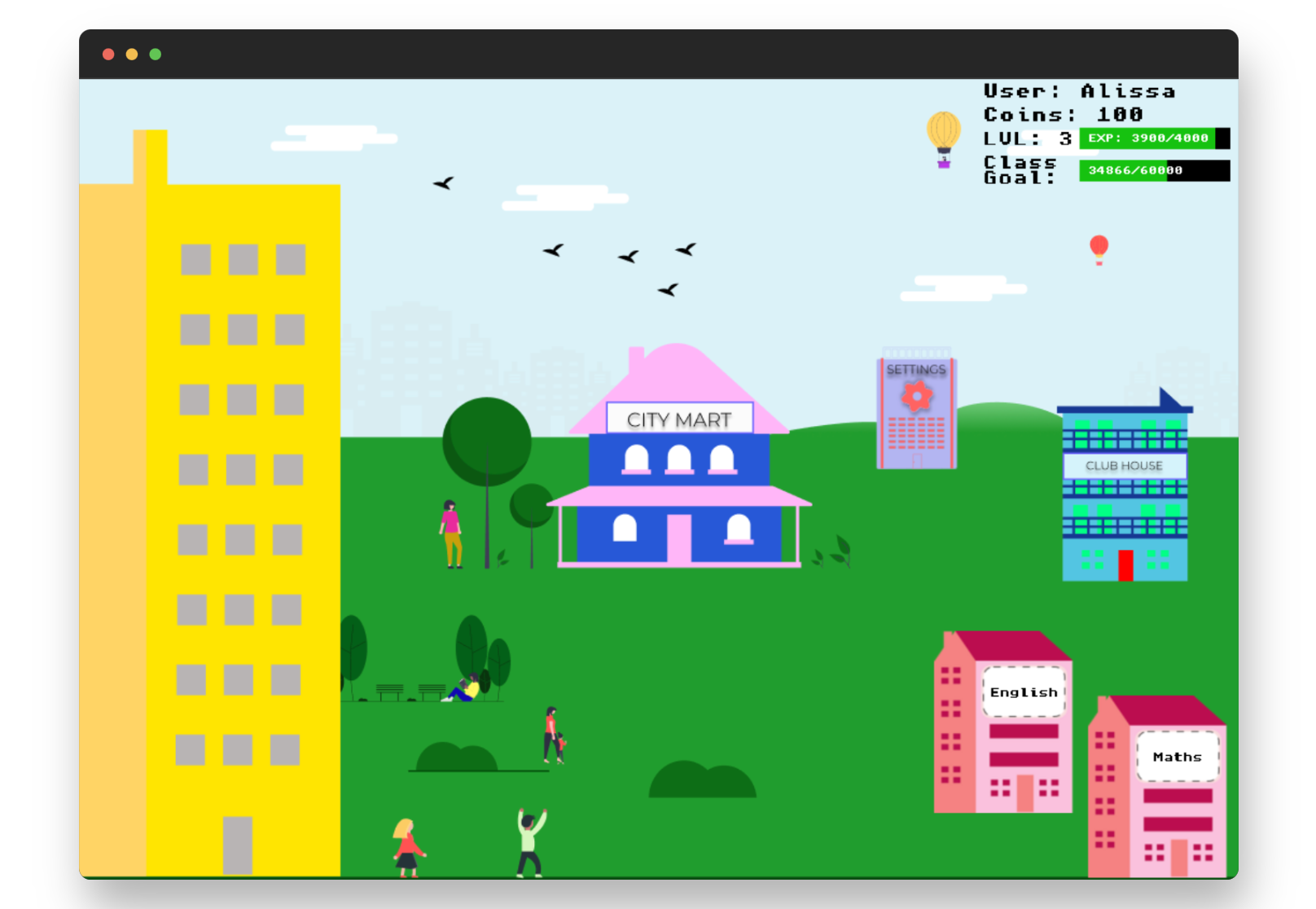 During the hackathon "Level-Up Society", organized by Showcode, the idea for Learn City was born. This competition was all about gamification and how it can be applied in different areas such as Mental Health, Finance, Retail, Learning and Security. Our international team, consisting of members from India, UK and USA, decided to tackle the Learning domain and developed an innovative concept that makes learning more exciting and effective for primary school students. The project was honored with the "Highly Commended" award.
Background
Studies show that intrinsic motivation to learn tends to decline in students from third to sixth grade. At the same time, research shows that rewards are not harmful, but that there is a relationship between external motivators and task-oriented motivation. Rewards are generally seen as beneficial to freedom and independence. Based on these findings, Learn City, a virtual city representing a school class, was created.
My role in the project
As a member of the Learn City team, I was responsible for project management, ideation, development, and presentation of the project. I worked closely with my international teammates, taking into account the different time zones, to ensure that our vision of Learn City was successfully implemented.
Concept of Learn City
The goal of Learn City is to use gamification elements to increase the motivation of elementary school students and make learning exciting again. To achieve this, we have integrated or plan to integrate various gamification concepts into the virtual city in the future:
progress indicators and rewards: Students' learning progress is made visible in Learn City, for example, by allowing them to purchase virtual furniture for their home or clothing items. This gives students an immediate sense of accomplishment and a sense of their progress.

badges and awards: Students receive badges and awards for special achievements or reaching certain learning goals, which they can display in their homes. This boosts self-confidence and encourages ambition to overcome further challenges.

competition and social interaction: the opportunity to compare one's own apartment with those of classmates creates a healthy competition that increases motivation to learn. In addition, students can collaborate and learn from each other by visiting and sharing tips.

individualization: each apartment can be customized and adapted to the preferences of each student. This strengthens the bond with their own apartment and motivates them to stay involved.
Outlook and YouTube video
Although it was not possible to develop the complete software during the hackathon weekend, Philipp Kant and I decided to finish the demo in our spare time. With Learn City, we want to revolutionize learning and show how gamification can help increase student motivation and provide them with a more effective, fun learning environment. We're excited to see how Learn City evolves and succeeds.
For those who would like to get a more detailed picture of Learn City, we have embedded the YouTube video here, where the project is presented in detail:
Want to try Learn City for yourself? Visit https://einguterwaran.github.io/LearnCity/ to experience the project from both a teacher's and a student's perspective and discover the various features and capabilities of Learn City.
Conclusion
Learn City is a promising project that has the potential to fundamentally change the way children learn. By using gamification elements, learning is made exciting and motivating again, which can lead to better learning outcomes in the long run. We are convinced that this innovative concept can help to promote intrinsic motivation in students and thus lay the foundation for a successful life.